Our open First Aid Training Courses in Essex. View our course dates and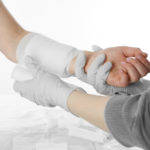 locations across Essex. We deliver First Aid at Work Training, Paediatric First Aid Training and, Emergency First Aid at Work Training courses throughout Essex. These can be delivered either onsite at your venue for your team or you can send delegates to one of our many first aid courses.
Tel: 01279 260999 or 01702 680999 or email us at admin@mediaid.co.uk
Please note – Course prices are before VAT.  VAT will be added to the price of the course.
What First Aid training courses are available in Essex?
Essex First Aid training locations
We can provide first aid training courses the county of Essex. We can deliver in-house course at your venue for your staff or send your staff to one of our open courses. Click on the towns below  to see the next available dates of our open First Aid courses.
How you can book your First Aid training in Essex
1. Book online
Click on the book button to move to our booking system website. Here you can see all date availability for the various courses and locations that we offer. If you are a new customer then register your company details, which will be saved for any future bookings.
2. Book via phone or email
Call us on 01279 260999 / 01702 680999 or email us at admin@mediaid.co.uk to book your training at our place or at yours. We will help with any additional information you need. 
3. Request a call or email
Visit our contact page and fill out the short form with your requirement. We will then call you or email you back as requested
Full Flexibility
At Medi Aid you can train at our place or at yours. Train with us at one of our scheduled training event days or simply contact us about training at your address. We can accommodate both small and large groups
Accredited & Compliant
Medi Aid is compliant with the First Aid Industry Body, as well as the Health & Safety executive (HSE) and the Federation of First Aid Training organisations (FOFATO)
28+ years experience
Medi Aid has been teaching first aid throughout the South East of England for over 25 years. You can be confident our expert trainers will guide you every step of the way